DRONE SET CHASING M2 VALUE PACK
---
Chasing M2 is a light industrial underwater ROV designed for professional users and industrial applications!
---

Please read - Why Exposure Underwater
---
Complete Chasing M2 drone value pack include:
M2 drone, remote control, 100 m driveline (cable) and winder, power cord, robotic arm, hardcase, transport case, removable 64 GB MicroSD card, GoPro adapter, screen sunshade, data cable Type-C to Type-C, data cable Type-C to Micro-USB, data cable Type-C to Lighting, Chasing towel, 4 pcs. screws M3x8, 6 pcs. O-rings driveline connector, 6 pcs. O-rings battery compartment, 6 pcs. Micro-SD O-rings, documentation.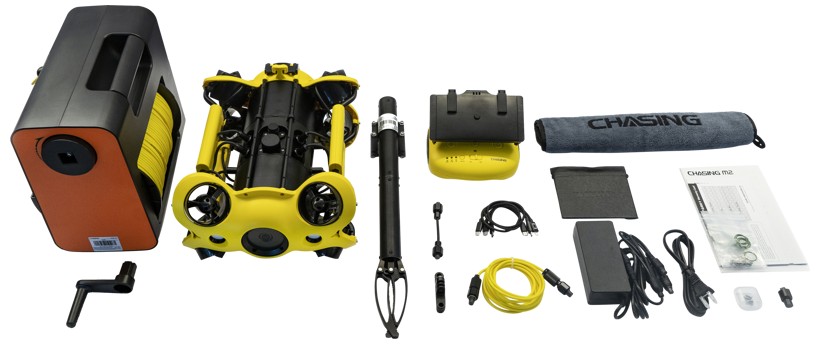 Impressive max-depth of 100 meters, working area up to 200 meter with optional longer driveline cable, exchangeable battery for less downtime.

Omni Movement, Multi-Angle Shooting
Chasing M2 has 8 vectored thrusters layout which allows OMNI movement in all 360 degree directions. Under any posture, the depth can be set with one key, which ensures that the drone accurately hover to achieve any perspective shooting, observation and operation needs of any viewing angle.

Strong Anti-Stuck motor
The anti-stuck motor on the Chasing M2 can resist the flow of water at 3 knots (2m/s) in all directions.

4K image stabilization camera
Built-in 4K video and 12M pixel camera, 152 degree field of view, time-lapse and slow-motion images and video capability and EIS image stabilization. With 2000 lumens LED lights, the camera of Chasing M2 can capture every detail clearly underwater.

User friendly interface that can be shared on 3 separately connected screens, live broadcast to social media outlets, HDMI output to view operations on a large screen.

More exclusive accessories to meet professional scenarios
Chasing M2 attachments such as extra diving light, Distance Lock Sonar, Chasing E-Reel and Laser Scaler etc.
---
Inspection work underwater such as:
• Underwater filming for oceanic and freshwater exploration
• Archeological surveys
• Fish farms surveillance
• Broadcast and film work
• Marine life observation
• Portable water tank and pipe inspections
• Science and oceanographic research
• Ship & propeller inspections
• Search & rescue works
• Nuclear power stations
• Pipelines & oil platforms
• Navy & Police forces
• Subsea construction & maintenance
• Coast guard
• Underwater salvage
• Port and harbour security and surveillance
• Bridge and dam monitoring
• Recreational use
---
Specifications
Designed for professional users, for example for hull and bridge inspections, underwater structures, search and rescue.
8 drive motors
Replaceable battery
4K video
Max depth 100 m
Compatible with additional equipment such as GoPro camera, lamps and laser scaler.
Packages [All]
The sonar protects the drone aga...