FIFISH V6S UW DRONE INCL ROBOTIC ARM
---
Complete FiFish V6S multi-task drone set includes: FiFish V6S underwater drone, VR glasses for smartphone, robotic grabber arm, 100 meter cable on drum, remote control, charger for drone and remote control.
---

---
More information
FiFish V6S is a mini-ROV sized vehicle that has all main features inherited from larger underwater drone systems. It has battery power allowing for use up to incredible 6 hours. The drone is equipped with a 4K underwater camera and the unit is considered great value among the portable and compact underwater drones on the market.

Small size and thin umbilical cable allows a high maneuvering capability and it can operate in hard-to-reach places in the ocean, lakes and rivers including pipes, industrial environments and wrecks. With all directional freedom and portable design, FiFish V6S with its VR glasses has brought a revolutionary directional system called "Point of view" (POV) for underwater photography and filmmaking. The V6S version comes standard with an electric robotic grabber arm which can be removed before use if needed.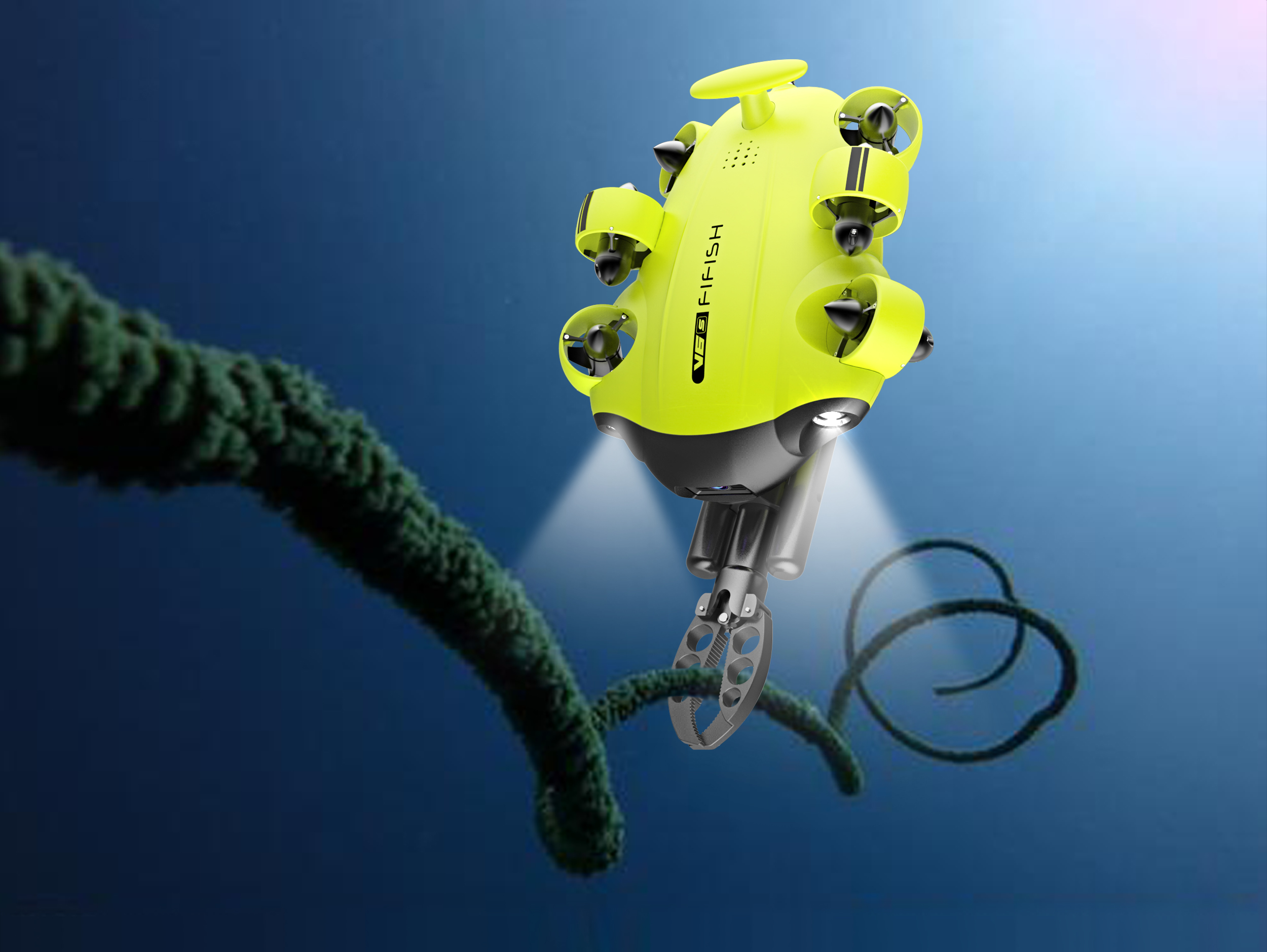 Affordable Multi-Task Underwater Drone
Many of the tasks assigned to commercial ROVs, or human divers, involves searching, inspecting, or surveying in shallow waters. These tasks are ideally suited to FiFish V6S technology. Small, light, ROVs that consume less power they are easy to use from the boat, pier, beach as well as rigs and ships. Since they have very little mass, they can be safely used on comparatively delicate places and machinery without fear of damage.
Easy launching
Launching simply involves entering the submersible by hand into the water, and may be used under conditions that would be too dangerous for larger machines or divers. The thrust to weight ratio for a small tether means that the FiFish V6S can be handle more water movement than most commercial ROVs in shallow waters. FiFish V6S delivers live images straight to the user.



Robotic arm
The neutral buoyant robotic arm redefines underwater work. It´s single function manipulator with strong grabber jaws allows smooth control, efficient and precise operation. Strong clamping force: 100N clamping force, with clamping lock function, 100N drag force. Excellent material selection tested for 1000 times use. Stainless steel 316 watertight connector (anti-rust and anti-corrosion).
Camera and lights
The FiFish V6S UW-drone is equipped with two adjustable 2000-lumen lights, and a 4K CMOS sensor with an ultra-wide field of view. An aditional mount for an extra camera like a GoPro, Paralenz or an extra light is possible.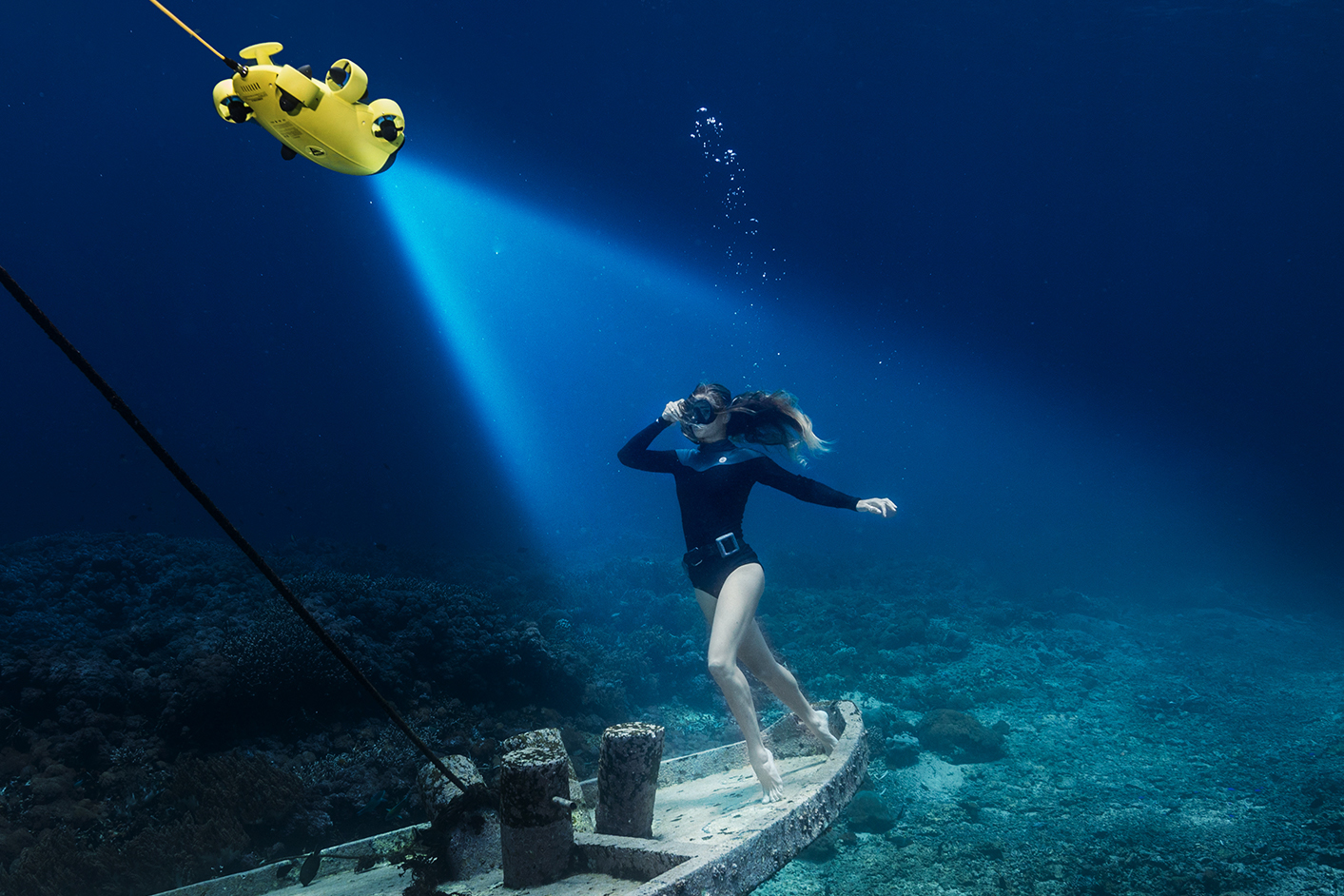 Control the FiFish V6S
You can use your smartphone, or tablet, with the included remote control – which has a similar design as an X-box control. The remote has several modes depending on how you want it to behave. FiFish V6 always deliver live images straight back to your screen.The drone has its own internal memory that stores video and images that can be downloaded to the phone over Wi-Fi. A memory card slot is built into the remote (up to 32GB) for photos and videos. Connect the100 meter drone cable, and run the underwater drone up to 3,2 knots for up to 6 hours on one single charge.
VR glasses included
You can be a part of the drones underwater journey through the included pair of VR-glasses and you can actually see what the drones see live. It is also very intuitive to steer the direction of the UW-drone by simply turning your head. When buying an additional HDMI box, you have the option of sending the video signals onto another extra screen or TV.
Multi awarded
Fifish has been awarded several design prizes such a "2020 DIA Award" as well as "2020 China Red Star Design Award" considered to be similar to an Oscar in the design field
Optional accessories
200 meter or 300 meter tether cable
Transport case on wheels (Industriall)
Shovel
HDMI Box (broadcast to external screen or TV)
Underwater Dozer
Fishing net
---
Great underwater inspection tool for uses such as:
• Underwater filming for oceanic and freshwater exploration
• Recreational use
• Archeological surveys
• Fish farms surveillance
• Broadcast and film work
• Marine life observation
• Portable water tank and pipe inspections
• Science and oceanographic research
• Ship & propeller inspections
• Search & rescue works
• Nuclear power stations
• Pipelines & oil platforms
• Navy & Police forces
• Subsea construction & maintenance
• Coast guard
• Underwater salvage
• Port and harbour security and surveillance
• Bridge and dam monitoring
---
Specifications
• Portable and ready-to-dive
• 6 engines allowing 6 degrees of motion freedom (DOF)
• Single function manipulator with grabber jaws
• Posture lock
• Real time video feed sent to the operator
• 4K high-res camera
• 120 fps for slow motion
• Ultra-wide-angle 166 degrees
• Stills allow RAW in DNG for great post-editing
• Codec H.265 provide sharp in details
• Image Enhancement System
• Depth and orientation sensors
• Head tracking feature (with the VR glasses)
• 100 meters depth rating
• No formal training required
• Affordabable, functional and compact size
• 6 hours battery life, 1 hour quick charge
• 2 pcs ultra bright LED lights (4000 lumen)
• Virtual Reality smart glasses
Relaterade Artiklar
Packages [All]
Collect items and move it on the...
Packages [All]
Transfer your live images to a s...
Packages [All]
The tablet/phone sun hood shades...
Packages [All]
Mounting bracket with GoPro mount.
Packages [All]
Mounting bracket with GoPro mount.
Packages [All]
Protects your UW-drone propelers...
Packages [All]
Onshore power module for chargin...