FiFish V6 Expert M200
| | | | |
| --- | --- | --- | --- |
| FiFish V6 Expert M200 | FiFish V6 Expert M200 | FiFish Expert all included | |
FIFISH V6 EXPERT M200 UW DRONE
---
The FIFISH V6 Expert underwater drone is a modular ROV platform drone for you to build to your exacting standards and needs.
---
More information - Why Exposure Underwater
Complete FiFish V6 Expert drone set includes:
FiFish V6 Expert underwater drone, 100m depth rating, 2 pcs 3000 lumen video lights, SD card socket, multiple Q-Interfaces for accessories, remote controll, 200 meter cable on drum, VR glasses for smartphone, heavy duty transport case, 156WH battery+adaptor, charger for both UW-Drone and remote controll unit.
---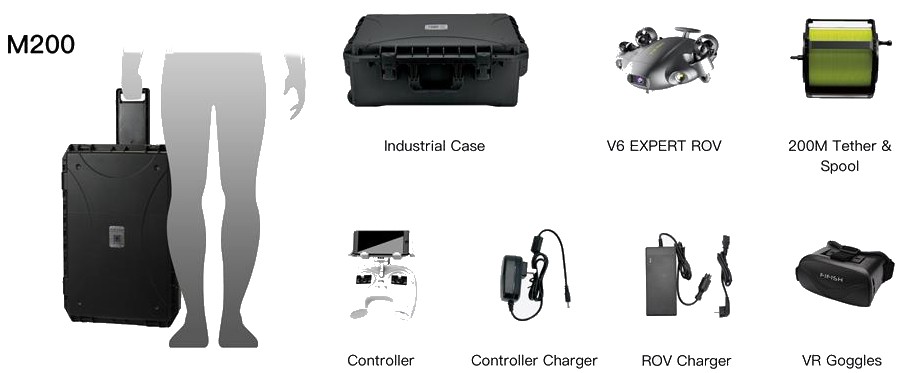 ---

FIFISH V6 Expert is a professional level underwater robot and a multi capable tool for enhancing your underwater missions and operations. The V6 Expert is equipped with a new power supply system that delivers optimal diving performance and operating time.
The Expert is a modular system that enables you to add on the equipment your mission demands. The Q interface allows the efficient integration of a wide range of professional level and industry specific tools to take on different scenarios and tasks.
Optional add-ons
Observation Tools: Q-Camera, 2D Imaging Sonar, HDMI Box 2.0, Universal Action Camera Mount, Universal Light Mount, Remote Control Kit
Measurement Tools: Compass Ruler, Laser Scaler, Distance Meter, Altimeter, Ultrasonic Metal Thickness Gauge, Hydrophone
Navigational Tools: UQPS–Underwater Quick Positioning System, USBL–Ultra Short Baseline Locator, DVL (Position Lock)
Manipulator Tools: Robotic Arm, Retrieval Hook, Robotic Wide Clamp, Fishing Net, Underwater Dozer
Sampling Tools: Water Sampler (100ml), Water Sampler (500ml), Dissolved Oxygen Sensor, Salinity Sensor, Turbidity Sensor, pH Sensor, Sludge Sampler
Patented Q-motor and 360° omni directional mobility
With the latest Q-Steady2.0 Stabilization System, delivering ultra-smooth and steady footage no matter where your challenging missions take you. A Streamlined design for minimum water resistance and enhanced power efficiency, the V6 Expert delivers a continuous flow of work for up to 6 hours.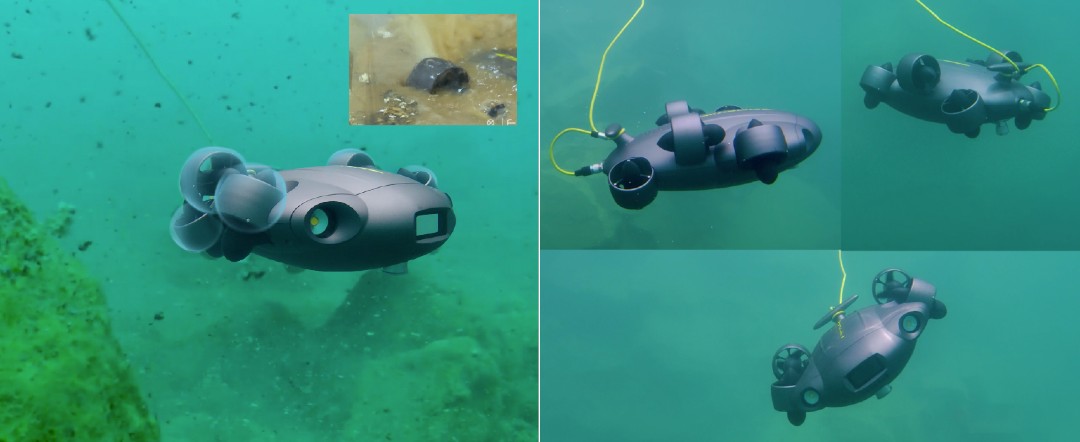 Control the Expert
You can use your smartphone, or tablet, with the included remote control – which has a similar design as an X-box control. The remote has several modes depending on how you want it to behave. FiFish V6 always deliver live images straight back to your screen.The drone has its own internal memory that stores video and images that can be downloaded to the phone over Wi-Fi.
VR glasses included
You can be a part of the drones underwater journey through the included pair of VR-glasses and you can actually see what the drones see live. It is also very intuitive to steer the direction of the UW-drone by simply turning your head. When buying an additional HDMI box, you have the option of sending the video signals onto another extra screen or TV.
Micro SD Card Fast Transfer & Storage
The SD card can be taken out of the V6 Expert for data exporting with ease. The ROV comes equipped with a 128GB card for ample space and storage of high-definition films and images.

---
Inspection work underwater such as:
• Underwater filming for oceanic and freshwater exploration
• Archeological surveys
• Fish farms surveillance
• Broadcast and film work
• Marine life observation
• Portable water tank and pipe inspections
• Science and oceanographic research
• Ship & propeller inspections
• Search & rescue works
• Nuclear power stations
• Pipelines & oil platforms
• Navy & Police forces
• Subsea construction & maintenance
• Coast guard
• Underwater salvage
• Port and harbour security and surveillance
• Bridge and dam monitoring
• Recreational use