INON GOPRO LENS WIDE SEMI FISHEYE UFL-G140 SD
---
The UFL-G140 SD provides wild wide underwater footage at nearly same view angle as using action camera on land.

---
More information

Though an action camera is equipped with ultra wide lens, its coverage underwater will dramatically narrow down due to different refraction ratio between air and water.
The INON UFL-G140 SD provides ultra wide semi-fisheye imaging with angle of view 140° underwater enabling wild underwater video work only with action cameras.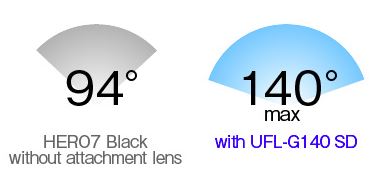 The UFL-G140 SD is constructed of 4 elements in 4 groups. Rear element is made from high refractive index glass lens to minimize whole size dramatically without sacrificing performance. Front acrylic dome has five layers multi-coating on its inner surface providing as same grade of image quality as like optical glass dome at affordable pricing.
Bayonet INON SD Mount compatible to support friendly and speedy lens exchange underwater.
---
Compatible cameras
OLYMPUS STYLUS TG-Tracker
SONY FDR-X3000/X3000R
SONY HDR-AS300/AS300R
GoPro® HERO9 Black
GoPro® HERO8 Black
GoPro® HERO7 Black
GoPro® HERO6 Black
GoPro® HERO5 Black
GoPro® HERO+LCD
GoPro® HERO+
GoPro® HERO
GoPro® HERO4
GoPro® HERO3+
Relaterade Artiklar
Lenses
For GoPro Hero8 Quick Lens Repla...
Lenses
For GoPro Hero9 Quick Lens Repla...