NIKON Z7 II & Z6 II SEA&SEA
---
With Nikon's mirrorless camera series Sea&Sea is taking advantage of the Z7 II / Z6 II camera's compact design and light weight, the housings has been designed accordingly to enhance these features.
---
Please observe that you find smart associated products at the bottom of the page as well as a short Swedish description.
Any other product are found in its specific categories.
Ports and gears for the MDX series DSLR housings can be used.
The MDX-Z7II / Z6II is compatible with the system chart for the MDX series DSLR housings. You can utilize F-mount lenses with the mount adapter FTZ and ports/gears for the MDX series housings. The Focus/Zoom dial has two gears, one for F-mount lenses with the mount adapter FTZ and the other for Z mount lenses. The MDX-Z7 II has been designed to take into consideration various Z mount lenses which will soon be available.
Compatible with Optical YS Converter/N1.
An optional Optical YS Converter which converts the camera's hot-shoe TTL signal into an LED light signal is compatible with the housing. Manual strobe photography is also possible.
The camera's upper control panel can be seen.
A window for the camera's upper control panel is also incorporated. As brightness of the camera's upper control panel has increased, the visibility is now greatly improved.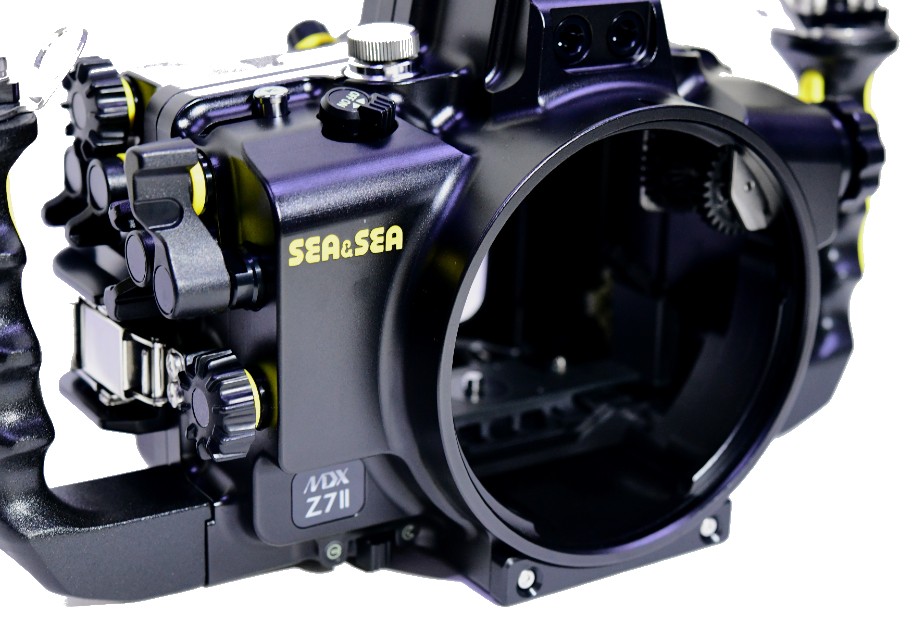 More features on the MDX-Z7II / Z6II housing
The Port Lock prevents the port from turning or loosening and the Port Lock lever is specifically located to avoid being unlocked accidentally.
The housing is equipped with a lens-lock release button which makes it possible to change lenses easily, without opening the housing.
Pulling out the Focus/Zoom Dial gives sufficient room inside the housing to easily accommodate larger diameter lenses.
The camera's diopter adjustment dial can be operated from outside the housing. This feature is useful when two or more people with different eyesight use the housing.

All controls have luminescence stickers which glow in dark environment.

Equipped with the Optical Viewfinder 0.5x as standard. Other optional viewfinders such as Optical Viewfinder 0.66x,and 0.8x can be used.
※Some vignetting occurs.When the VF45 and VF180 1.2x is mounted on housing, the corners of the camera's viewfinder cannot be viewed due to vignetting.
Sync Cord 2-pin Connector enables use of conventional hardwired Sync cable (Manual mode only).
Equipped with two sacrificial zinc diodes (one on the front case and the other on the rear) to prevent electrolysis damage.
Equipped with under guard to protect from scrach.
Spare O-ring set: #62121

---
Specifications
Body: corrosion-resistant aluminum alloy (machined)
Grip: corrosion-resistant die-cast aluminum alloy
Depth rating: 100m
Dimensions: (WxHxD) 339 x 169 x 158 mm
Weight: Approx. 2,700g (Housing only)
---
Short product description in Swedish

"Sea&Sea UV-hus MDX-Z7II byggt för både Nikon Z7 II och Z6 II kamerorna. Portarna stöder Nikons nya Z-linser men även de klassiska F-linserna med en Nikon FTZ-adapter. Utrustat med ett fönster för kamerans övre kontrollpanel och portar för vakuumsystem och blixtkontakt. UV-huset levereras med fuktlarm och två integrerade handtag. Maxdjup 100 meter.
Kameramodellerna Nikon Z7 II och Z6 II är ""mirrorless"" fullformatskameror med Nikons fantastiska kvalitet, inklusive mångsidigheten med en utmärkt elektronisk sökare och en mer kompakt storlek."
Relaterade Artiklar
Mirrorless & DSLR
Sea & Sea Optical YS Converter N...
Mirrorless & DSLR
SEA&SEA 45 degree prism viewfind...
Mirrorless & DSLR
SEA&SEA Straight prism viewfinde...
Mirrorless & DSLR
Sea&Sea manual pump in combinati...
Mirrorless & DSLR
Main o-ring set for MDX-5D III &...
Mirrorless & DSLR
Fixed ball base attaches to the ...
Mirrorless & DSLR
The ultimate bag to protect and ...