SONY A7S III SEAFROGS INCL FLAT PORT LONG (90MM, 35MM, 24-70MM, 24-105MM)
---
This housing is designed as an optimized solution for both underwater still and moving image capture. With Seafrogs underwater housings you get a standard flat port included that support several lenses.
---

More information - Why Exposure Underwater
Please observe that you find smart associated products at the bottom of the page.
Any other product are found in its specific categories.
This housing and port package supports
- Camera Sony a7S III
- Lens Sony FE 2.8/90 Macro G OSS
- Lens Sigma 35mm f/1.4 DG Art E-mount
- Lens Sony FE 4/24-105 G OSS
- Lens Sigma 24-70mm 1˖2.8 DG DN φ82 (SONY FE mount)
For more port solutions please read this PORT CHART

Housing is watertight for 40 meters and include a leak detector. Possible to mount the Seafrogs vacuum valve system for extra leak safety.
Key features
- Aperture adjustment
- Mouse menu
- Accurate focus adjustment
- Internal frame stability
- New upgrade leak detection sensor
- Interchangeable port system
- Vacuum pump system port
-Sync cable port
- Dual fiber optical port
- High-quality optical viewfinder
- Stainless steel mounting plate 1/4" Thread
- Reinforced metallic bottom plate
- Multi-coated glass lens port
---

In the box
- Underwater housing for Sony a7S III
- Zoom gear/Focus gear
- User manual
- Spare O'ring
- Shoulder & wrist strap
- Lens protective cover
- Dust-free cloth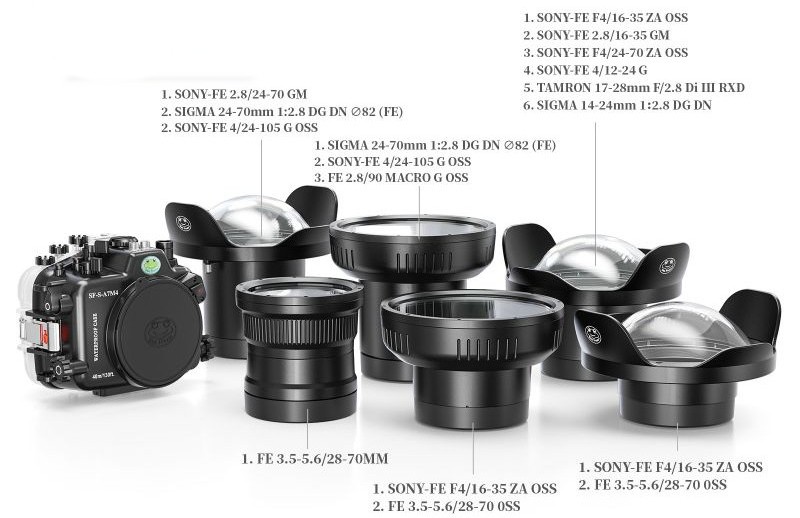 Relaterade Artiklar
Mirrorless & DSLR
This new system is the most adva...
Mirrorless & DSLR
For underwater housings
Mirrorless & DSLR
The largest backpack that fits m...