FIFISH V6 UW DRONE INCL VR GLASSES
---
Complete FiFish V6 drone set includes: FiFish V6 underwater drone, VR glasses for smartphone, 100 meter cable on drum, remote control, charger for drone and for remote control.
---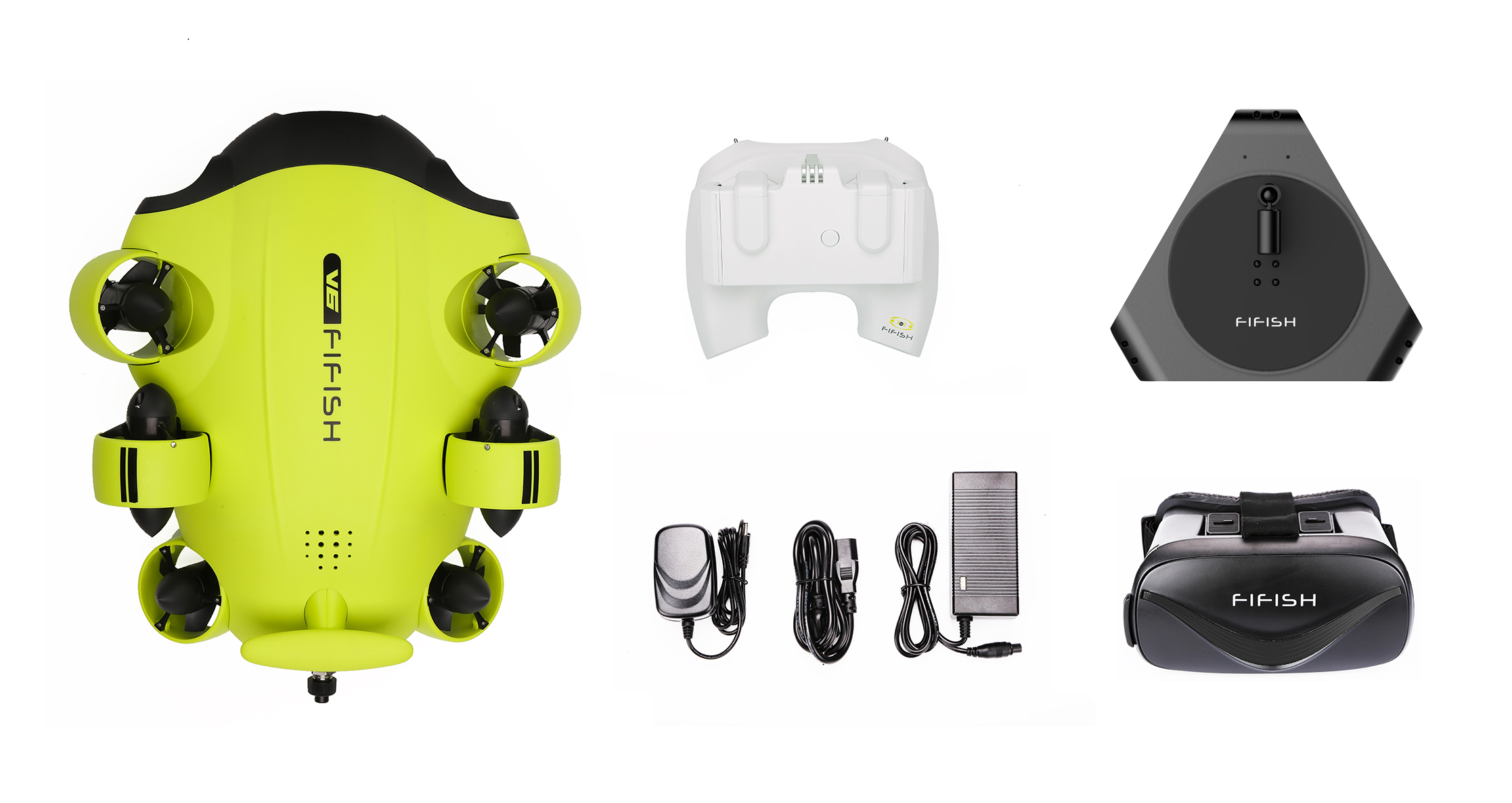 ---
More information
FIFISH V6 is an advanced underwater drone from QYSEA that can rotate 360 degrees in 3 axis and uses its 6 motors to constantly stabilize and stay at the desired depth all while filming in 4K, slow motion at 240 fps or taking pictures in RAW (DNG format) with the 12 Megapixel camera sensor. The V6 UW-drone is equipped with two adjustable 2000-lumen lights, and a CMOS sensor with an ultra-wide field of view.

The drone has virtually no restrictions on movement. Among other things, it can move sideways, stand straight up or straight down while moving it in the desired direction.
And it is possible to add an extra mount for extra cameras such as GoPro, Paranlenz or an third light source.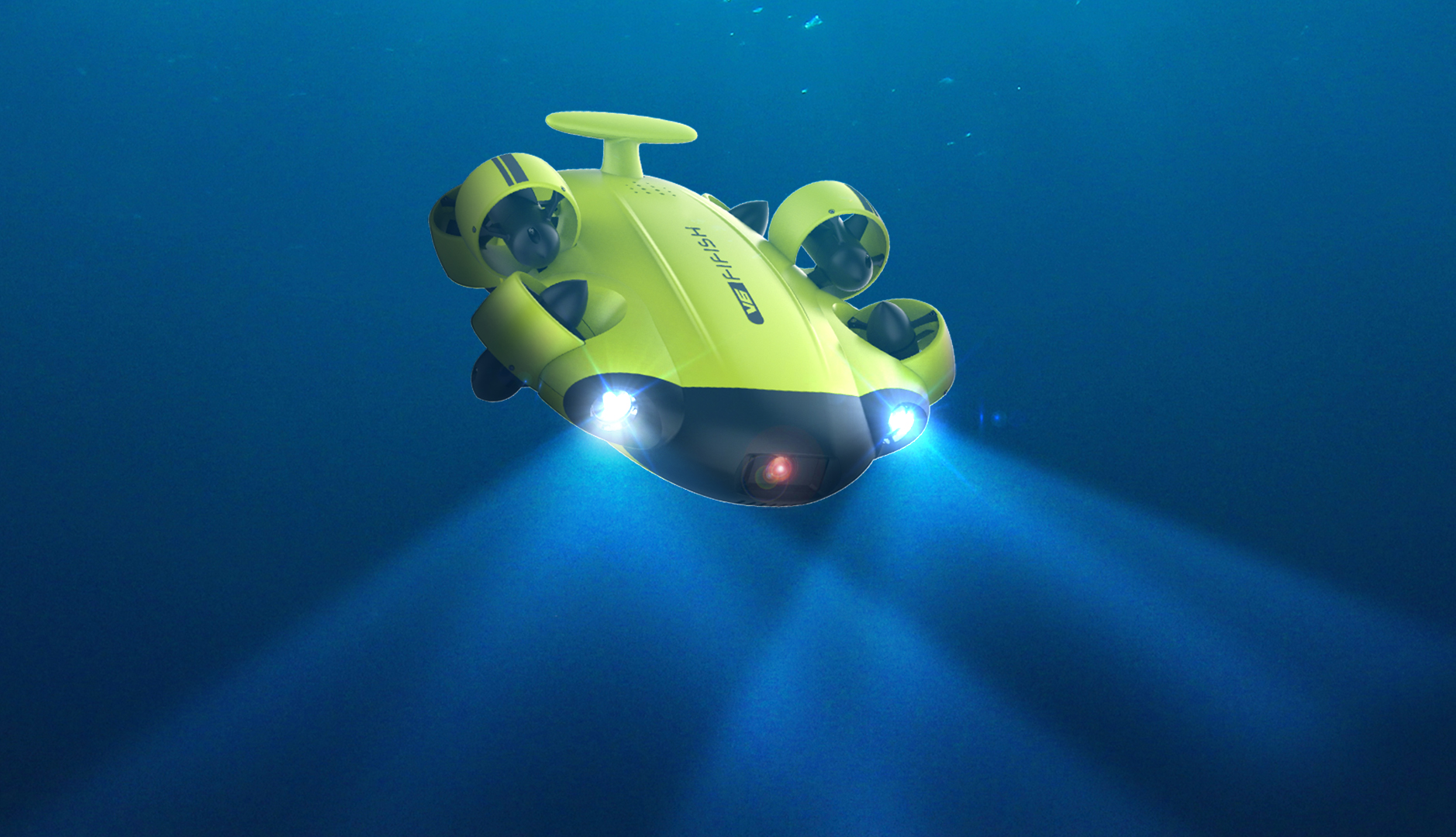 Control the underwater drone
You can use your smartphone, or tablet, with the included remote control – which has a similar design as an X-box control. The remote has several modes depending on how you want it to behave. FiFish V6 always deliver live images straight back to your screen.The drone has its own internal memory that stores video and images that can be downloaded to the phone over Wi-Fi. A memory card slot is built into the remote (up to 32GB) for photos and videos. Connect the100 meter drone cable, and run the underwater drone up to 3 knots for up to 4 hours on one single charge.

VR glasses included
You can be a part of the drones underwater journey through the included pair of VR-glasses and you can actually see what the drones see live. It is also very intuitive to steer the direction of the UW-drone by simply turning your head. When buying an additional HDMI box, you have the option of sending the video signals onto another extra screen or TV.
Multi awarded
Fifish has been awarded several design prizes such a "2020 DIA Award" as well as "2020 China Red Star Design Award" considered to be similar to an Oscar in the design field.

Maintenace instructions
Underwater drone maintenance
Optional accessories
200 meter or 300 meter tether cable
Transport case on wheels (Industrial)
Shovel
HDMI Box (broadcast to external screen or TV)
Underwater Dozer
Fishing net


---
Inspection work underwater such as:
• Underwater filming for oceanic and freshwater exploration
• Recreational use
• Archeological surveys
• Fish farms surveillance
• Broadcast and film work
• Marine life observation
• Portable water tank and pipe inspections
• Science and oceanographic research
• Ship & propeller inspections
• Search & rescue works
• Nuclear power stations
• Pipelines & oil platforms
• Navy & Police forces
• Subsea construction & maintenance
• Coast guard
• Underwater salvage
• Port and harbour security and surveillance
• Bridge and dam monitoring
Relaterade Artiklar
Lenses & Ports
Collect items and move it on the...
Lenses & Ports
Transfer your live images to a s...
Lenses & Ports
Hard plastic trolley case for sa...
Lenses & Ports
The tablet/phone sun hood shades...
Lenses & Ports
Mounting bracket with GoPro mount.
Lenses & Ports
Mounting bracket with GoPro mount.
Lenses & Ports
Protects your UW-drone propelers...