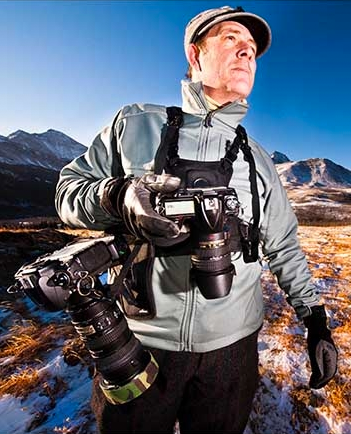 CAMERA VEST WITH SIDE HOLSTER COTTON CARRIER
This product is specifically designed for photographers who wish to mix 'n' match their full-frame camera bodies, bodies with a battery grip and regular camera bodies. This 2 camera carrier vest system comes complete with a comfortable and durable, one-size-fits-all adjustable Camera Vest made of 1680 Denier Polypropylene material fitted with a Lexan camera receptacle.
The removable Side Holster is also made of durable 1680 Denier Polypropylene fitted with a Lexan camera receptacle. You have the choice of attaching the holster to either the Camera Vest or the Lens Bag System.
Features
Eliminates neck straps that cause neck strain and swinging cameras
Comfortably carries any size of camera and lens combination
secure camera locking system, with instant release
1 or 2 camera carrying design
removable holster carrier can be attached to camera bag or belt
perfect for wedding, sports, nature, and studio photography
For more information found
[internal link here]
Check out Cotton Carrier "The action hero" [here]