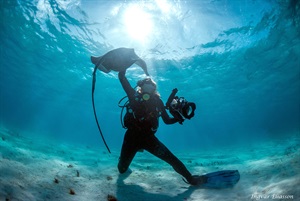 Photographer: Ingvar Eliasson
Meet Scuba Supply & Dive 4U Team in lund.
Do not miss the opportunity to meet Scuba Dive Supply and Dive 4U's event in Lund. On Saturday, April 18th we are there and Patrik Karlsson lecture with the subject "8 Tips how to take better underwater photos." Scuba Travel, Ursuk, SI Tech, Aqwary exhibits, many interesting lectures, a fun competition with a lot more. Something to note in your calendar amongst divers in southern Sweden. Hope to see you there!
Press release for Dive 4U

Five of the top players in the dive industry within the Nordic area; Poseidon Diving Systems (dive & rebreathers), Scuba Supply (UW photography), SI TECH (valves, drysuits, dry gloves, seals), Scuba Travel Scandinavia (dive travel) and Ursuk (dry suits, dive), have joined forces and will launch a dive tour in 2015. "We are the leading manufacturers and agents in our specific area of expertise, and together we hope to reach as many existing, and future divers as we can. Our goal is to lift the interest for scuba diving in general," says Daniel Benér of Scuba Travel Scandinavia.

The tour will begin on the 31st of January 2015 at Poseidon Diving Systems headquarters in Gothenburg. Visitors will be able to enjoy try dives on rebreathers and other dive gear throughout the day, as well as listen to seminars on various exciting topics such as underwater photography, dive travel and innovations within the dive industry. The day will end with a dive pub where prizes will be handed out for those that have joined us throughout the day!

Next cities to be visited of Dive 4U Spring/summer 2015.
Follow the information about the tour on Facebook [here]