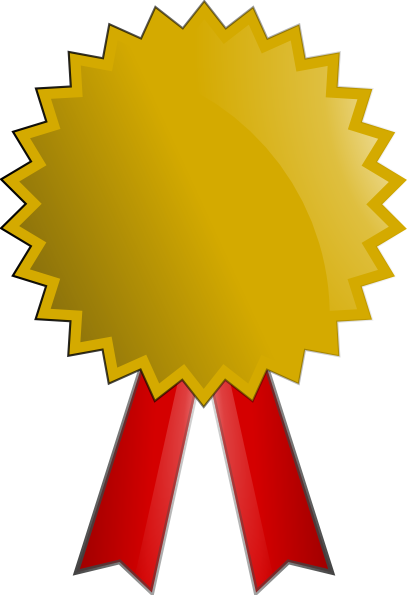 MAGNUS LUNDGREN
Exposure Underwater Ambassador
← Back to main Ambassador page
← Magnus is our Pro Support on Exposure Underwater
↓ Scroll down: Photo tips / Magnus' portfolio / About / What's in the bag / Interview
---
Magnus tips for underwater photographers
1. Respect the environment your work in. You will make much better images.
2. Look at your subjects as individuals.
3. Work with what is in front of you instead looking around.

4. Challenge your ideas and find new techniques.
---
Magnus Lundgren Portfolio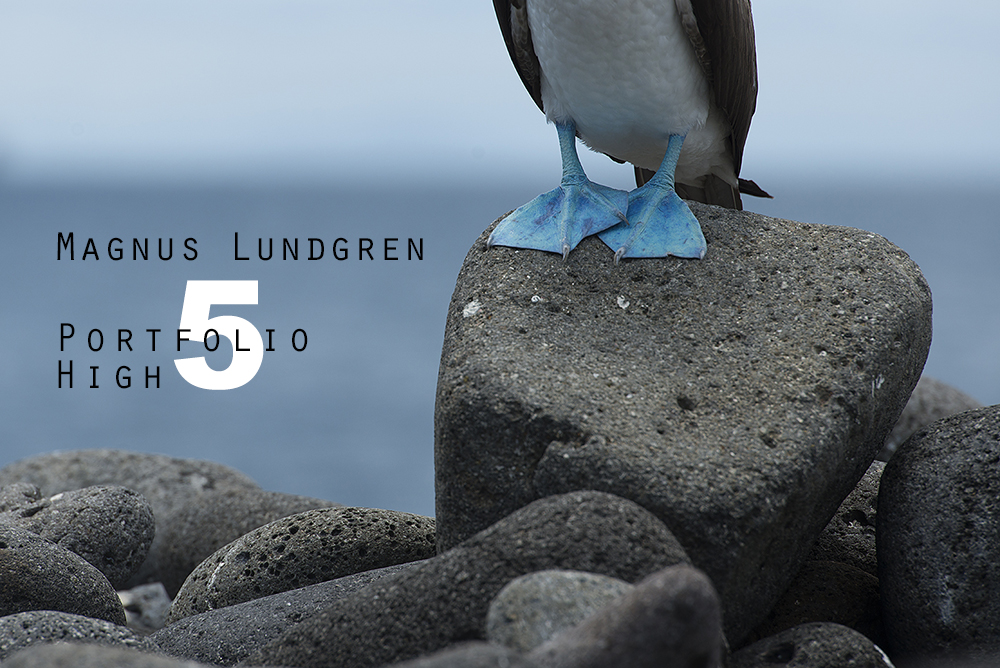 A pair of bluefooted booby feet, an image from Exposure Expedition's succesful Galapagos shoot in 2012.

© Magnus Lundgren



[Nikon D800E - Nikkor 70-200 mm + Teleconverter x1.4 @ f/6.3 - 1/1250 sec - ISO 200]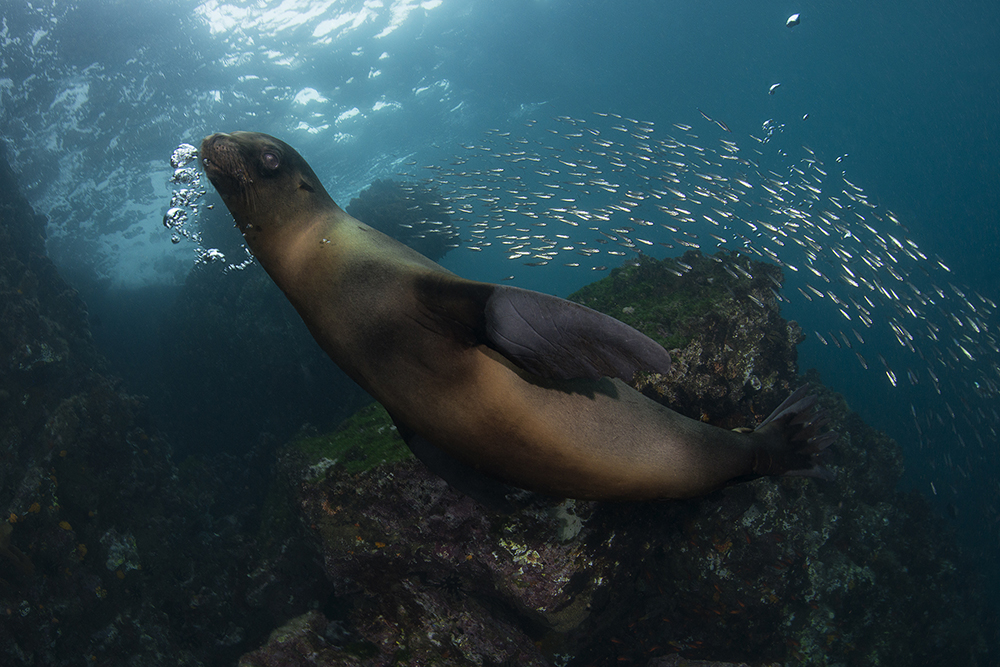 Galápagos sealion, Zalophus wollebaeki, playing in the rich currents around the Isabela Island, Galapagos Islands, Ecuador.

© Magnus Lundgren



[Nikon D800E - Sigma 15 mm fisheye @ f/8 - 1/125 sec - ISO 400 - Sea&Sea MDX-D800 - two Inon Z-240 strobes]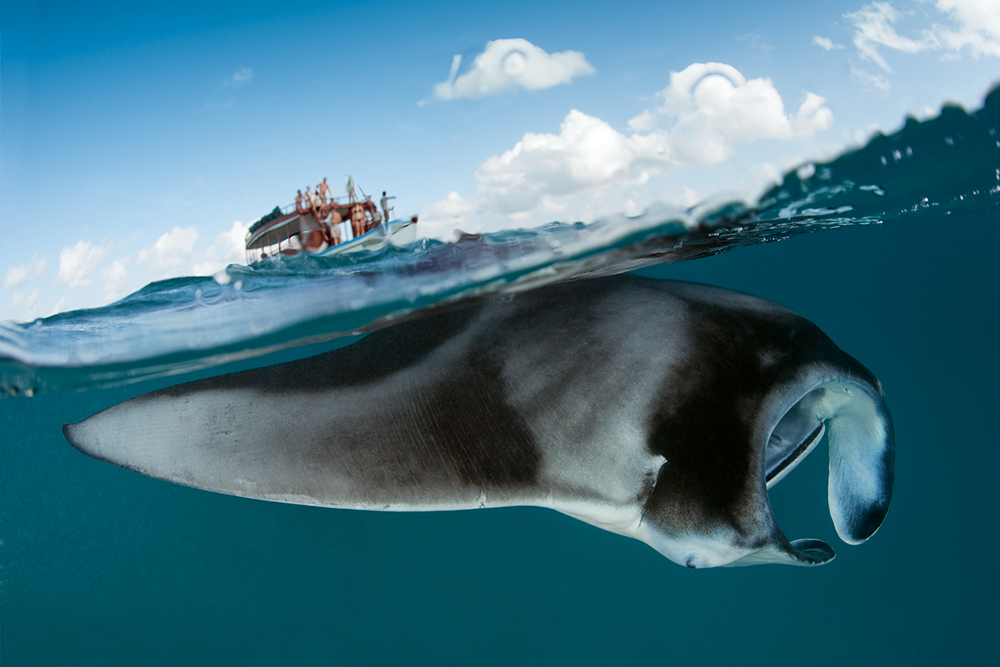 A true split shot from Exposure Expedition to Hanifaur Bay in the Maldives. © Magnus Lundgren

[Nikon D3x - 16 mm Nikon fisheye @ f/10 - 1/320 sec - ISO 200 - Sea&Sea MDX-D3 housing - Fisheye acrylic dome - double Sea&Sea strobes]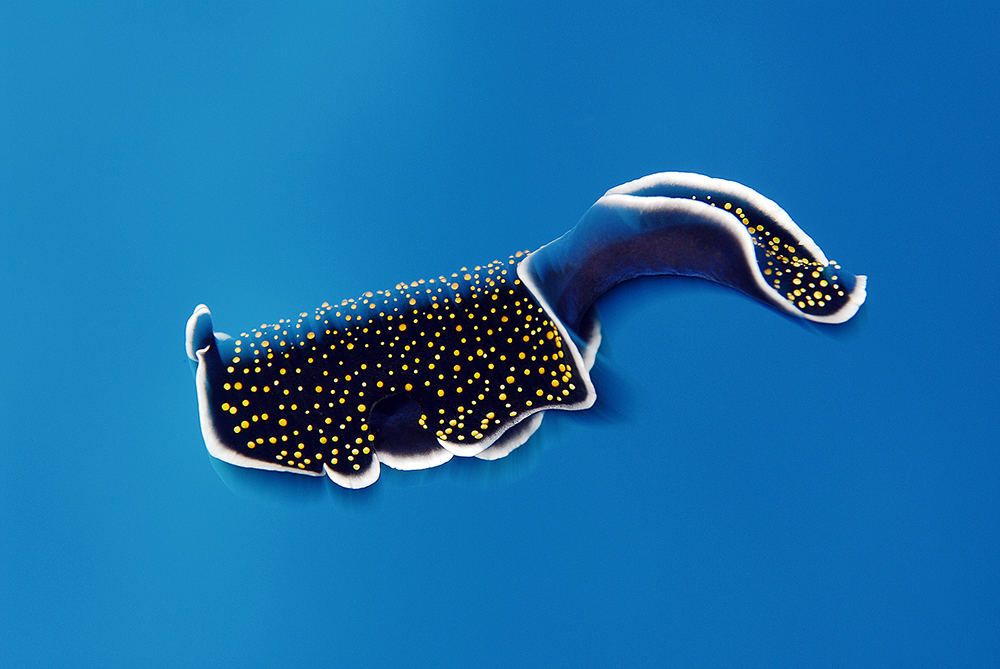 "In the World Championship in Underwater Photography (Mauritius

2007) I

earned a silver medal for another shot but this action macro image on slow
synch was my own favourite. I decided there and then to never ever enter a competition like that due to lack of fair play."

© Magnus Lundgren
[Nikon D200 - Nikkor 105 mm @ f/13 - 1/20 sec - ISO 100 - Sea&Sea MDX-D200 housing - macro flat port - double Hartenberger strobes]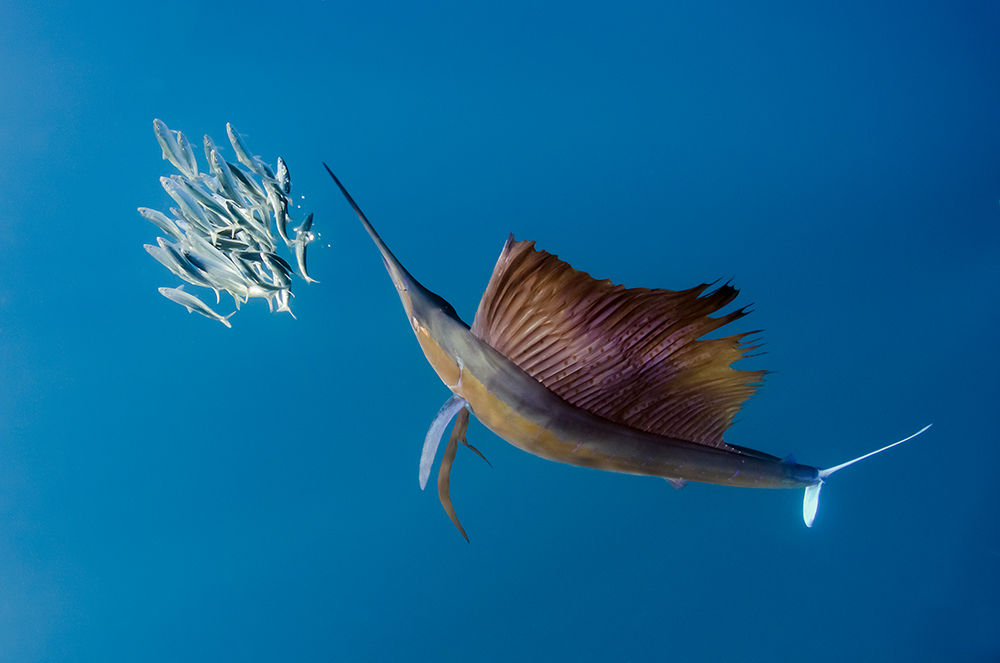 This image was awarded winner in the prestigious competition WIldlife Photographer of the Year in "Underwater" category in 2012.

The image was shot on an Exposure Expedition to Mexico in 2011.

[Nikon D7000 - Tokina 10-17 mm fisheye @ f/6,3 - 1/640 sec - ISO 1000 - Sea&Sea MDX-D7000 housing - fisheye acrylic dome with extention ring]
---
About Magnus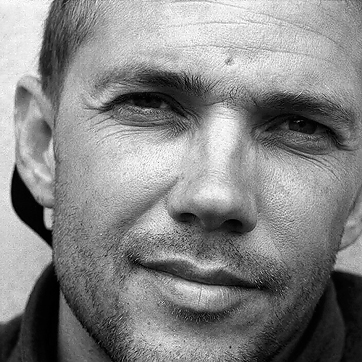 Well, let's try to keep it short…my underwater obsession started with a whispering broken voice in our family TV-set. Jaques-Yves Cousteau came straight through the flickering screen with a boyish curiosity and "let's go and have a look" message. I was very young and I got very hooked. He was a great man and a great inspiration!

For a long time photography was secondary to many other things in my young mind and life. After my studies I caught a travelbug and again I found that string of inspiration that Jaques-Yves embedded in me when I was young. Since then my mind has been busy with the sea and I love every inch of it. Inspiration is the key. Mother nature always brings some sort of rugged unsentimental truth to me. She inspires and makes me just plain happy.
I am convinced that through projects like Wild Wonders of Europe and Wild Wonders of China we can inspire a huge crowd and engage real people by exposing fantastic wildlife wild places.
→ Instagram [magnuslundgrenphotography]
→ Facebook [Magnus Lundgren]
→ Web [magnuslundgren.com]
---
Magnus UW photography equipment
→ UW Housings - Sea&Sea MDX-D810 & MDX-D500

→ Macro ports - Various Sea&Sea flatports + diopters that can be added underwater for super macro

→ Dome ports - Three different Sea&Sea dome ports and one Zen minidome and many extention rings
→ UW strobes - 2x Sea&Sea YS-D1 & 3x Inon Z-240 & 2x Hartenberger
→ Arms - Combination of Exposure Underwater, Sea&Sea, ULCS and Inon arms, clamp and accessories
→ Focus and video light - Fisheye FIX Neo 2000 x2

→ Other vital UW accessories - Sea&Sea Optical TTL converter

→ Dive gear - O

f course the indestructable regulators and BC's from

Zeagle. Dry suit Ursuk Heavylight (mu first heavy light lasted for 1500 dives) and Fourth Element clothing.
---
What's else is in the camera bag, Magnus?
I am using Nikon cameras and right now I am mainly using two Nikon D800E bodies and I might complement with a Nikon D7100 for macro work as well but for now I am very happy with my D800E's.
Wide lenses for FX & DX
→ Nikon AF-S 16-35mm /4,0 G ED VR
→

Nikon AF-S DX 10-24/3,5-4,5 G ED
→

Nikon AF DX 10,5/2,8 G ED Fisheye
→

Tokina 10-17mm AT-X 107 AF DX NH Fisheye
→

Sigma 15mm F2.8 EX DG Diagonal Fisheye
→

Sigma 28mm AF f/1.8 EX DG (FX)
→

Teleconverter x1.4 Kenko Teleplus Pro 300 DG

Macro (or Micro) lenses
→

Nikon 40mm f/2.8G AF-S DX Micro
→

Nikon 60mm f/2.8G ED AF-S Micro
→

Nikon 105mm f/2,8 AF-S G IF-ED VR Micro
→

Nikon Teleconverter x1.4 AF-S Teleconverter TC-14E II
→

Nikon Teleconverter x2 AF-S Teleconverter TC-20E III
Others lenses
→

Sigma EX 18-50mm /2,8 DC Macro HSM for Nikon
Other favourite lenses not used underwater
→

Nikon 24-70 mm
→

Nikon 70-200 mm
→

Nikon 500 mm
---
Interview with Magnus

Why underwater photography?
For me it is not really about choice. It is more like a passion, or a nerdy madness and at the same time a great adventure. It all started with my admiration and respect for the wild world and continued into something that makes me very happy. My god that sounds so pretentious. Almost like a rock ballad from the eighties but nevertheless that is the way it is for me.
What's best about it?
OK, it is like a pyramid. In the greatest shooting moments I loose contact with the base of the triangle, and contact with the middle section is also lost for that sake. The subject, the camera and me knowing that this will be the peak of action just before it is happening. In that moment I loose everything else. I am solely there, in my happy bubble, at the top part of my pyramid. That is the best part! I wonder if that make sense to anyone else?
What's worst about it?
Quite often family and friends feel sorry for me for spending time in the cold, wet, dark and hostile sea. They all missed that this is the best part. The downside of the work is all the afterwork of a shoot. Sorting images, retousch, and cleaning gear etc etc and etc. This is time that I could have been "out there".
Favourite places?
This is difficult question for me to answer. I am a photographer who find a valuable subject just about everywhere I dive. Easy to please you might say but almost any place have subjects or images to offer. I could say if you are looking for diversity then go to Indonesia, wildness go to South Africa, exotic stuff why not West Papua, want some action try Bahamas, explore the blue then the Azores is a good place but then I leave out so many other excellent spots like Cocos, Galapagos or Cuba to name a few or all those places I have never visited. My best answer to the questions must be "the next place" - that must be my favourite place!
Spara
Spara