Underwater drone FiFish W6 Pro Qysea (305m)
With operational depth to 350 meters this underwater drone are made for commercial use. The dual camera system delivers super sharp 4K video and images. The W6 Pro drone is built around a modular system for additional payload like sonar, water sampler or GPS. Landbased power supply is an option for continous operations.
Description
Fifish W6 Pro is a professional ROV for underwater operations.
In the box
1 pcs FiFish W6 PRO underwater drone with dual cameras and 350m depth rating
1 pcs Laser ruler and manipulator/grabber arm
2 pcs 6000 lumen video lights
1 pcs SD card socket
Multiple Q-Interfaces for accessories
1 pcs remote control
1 pcs 305 meter cable on drum
2 pcs heavy duty transport cases
1 pcs Exchangeable battery
Prepared for optional onshore power supply
1 pcs Charger for drone
1 pcs Charger for remote control unit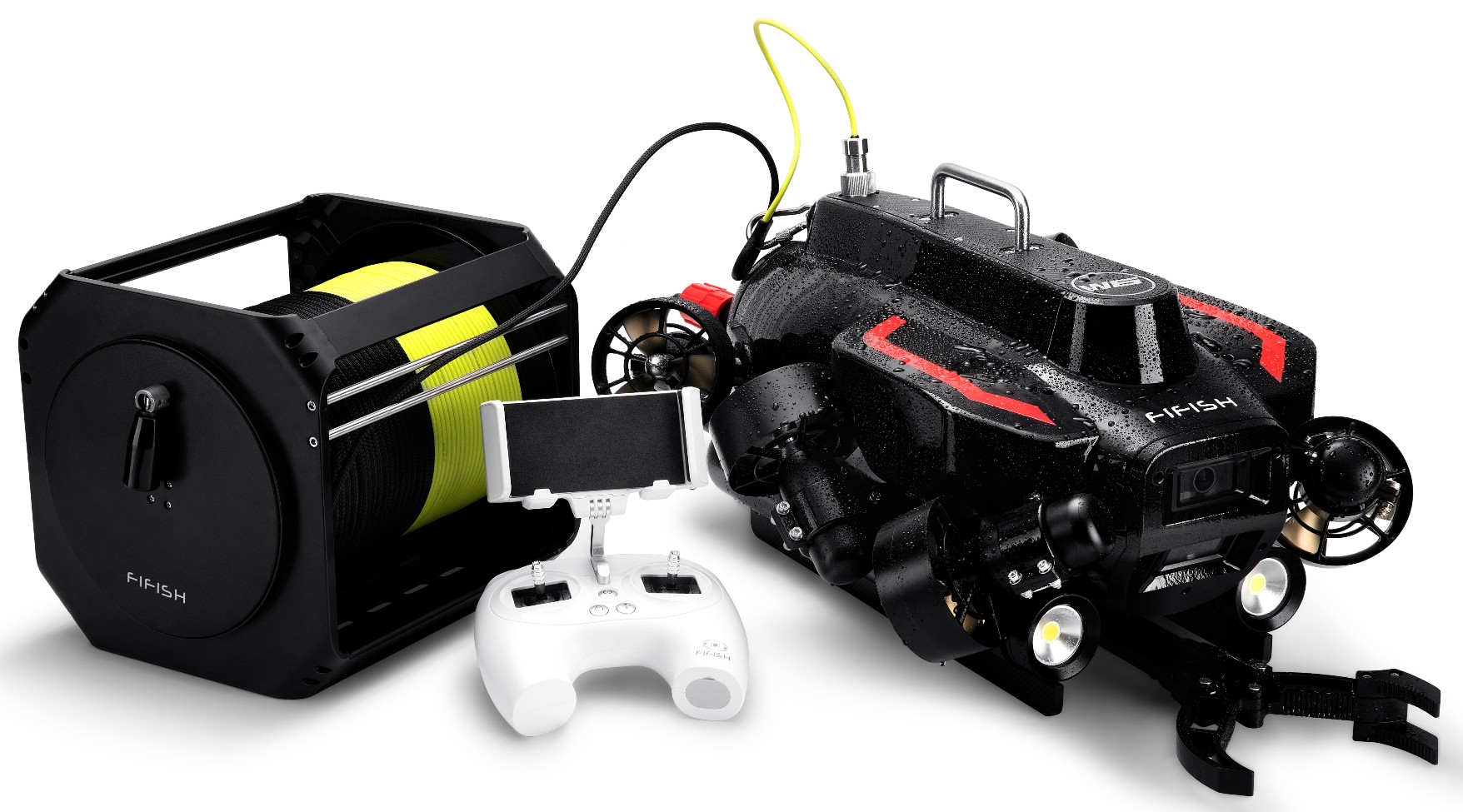 FiFish W6 PRO is an industrial-grade underwater ROV plattform, depth rating 350 meter, equipped with the patented 6 Q-motor system, more battery capacity saving, stronger power, more stable fight-current performance. Innovative modular interfaces which enable the rapid replacement of parts or the switching of accessories with different functions and executing various task efficiently and precisely.
Innovative dual 4K camera system work in coordination and laser scaler as standard!

UNIQUE TECHNOLOGY
W6 4K ultra-high-definition dual camera system provides a wider field of view, realizes the coordination of operation monitoring and motion observation, and provides operators with a complete picture of the surrounding environment.

Hydro Dynamic Design: The perfect fluid shape accomplished by thousand times fluid simulation and testing

Omni-Directional Algorithm: Accurate and precise control performs well in any angle, anywhere, and anytime

Powerful Thrusters: Q-Motor built to withstand the sand, corrosion and other hush conditions

UW Image Tech and Recognition: The UW (underwater) pixel restoration technology and image recognition produce clear photos even in the murky water

Communication & Positioning:The underwater sonic system provides communication & position information

Sonar Array Immersive AR & VR:

Sonar Array allows the distance lock both forward and downward. The AR Scaler and VR head tracking feature delivers more natural controlling experiences

Control the underwater drone with your your smartphone, or tablet, with the included remote control – which has a similar design as an X-box control. The remote has several modes depending on how you want it to behave. FiFish W6 PRO always deliver live images straight back to your screen.
Modular design plattform with quick and easy add-on
Payload interface: W6 adapts Q-box which integrates 5 Q-IF interfaces. It is easier for developers to develop their own dedicated accessory with Q-BOX.

Imaging sonar: Underwater ROV platform can add-on 2D/3D image sonar to perform the inspection under dark and turbid water environment.

Possitioning system: U-QPS underwater quick positioning system is a Software and Hardware eco-system which can provide the real-time FIFISH ROV location, POI recording, three- dimensional diving path recording, and one-klick to return POI.

Sonar array system: The Sonar Array system is QYSEA patent algorithm which can realize the Distance Lock, Altitude Lock, Collision Avoidance and Contour Scanning functions. These innovative functions enhanced the ROV user experience and reduce complicated operations of the ROV.




Removable Battery & Onshore Power Supply
W6 is more powerful, more battery-capacity saving, more efficient than other ROV with more motors. And is more suitable for long time underwater task. W6 battery capsule has large power, durable, adopts a removable design, 8 hours of continuous battery life (depends on operation condition), can perform long-time underwater operations, and the battery supports quick charging mode, which can be charged 70% in one hour. W6 also can be equipped with an onshore power supply system to achieve unlimited working time. This system is safe and efficient, convenient to carry, continuous supply, worry-free operation.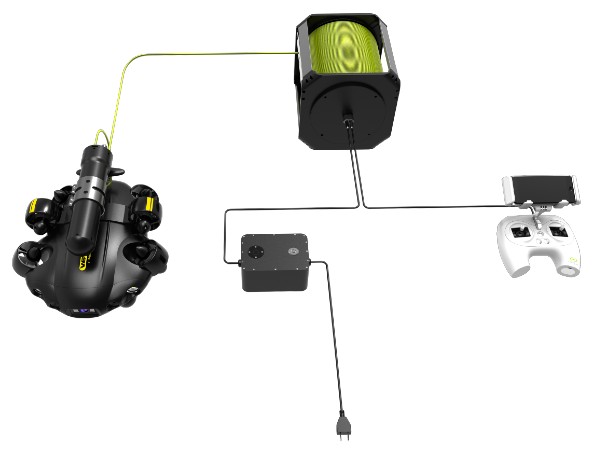 What can a W6 Pro done be used for?
Underwater filming for oceanic and freshwater exploration

Archeological surveys

Fish farms surveillance

Broadcast and film work

Marine life observation

Portable water tank and pipe inspections

Science and oceanographic research

Ship & propeller inspections

Search & rescue works

Nuclear power stations

Pipelines & oil platforms

Navy & Police forces

Subsea construction & maintenance

Coast guard

Underwater salvage

Port and harbour security and surveillance

Bridge and dam monitoring
Read more
Other products of the same brand